We at CODELLO love accessories! It all began in the 1920s when our founder Rinaldo Codello brought his inspiration for silk scarves with him from Italy to Germany. Now, there is a whole world of inspiring and colourful CODELLO accessories to discover:
CODELLO women. The heart of our CODELLO world. Our signature style full of poetry, patterns and ideas carries you off into worlds of intensely coloured imagery and tells stories from near and far. The inspiration behind it? Fashion, culture, nature, travels around the world and a good dose of personal experience. Lovingly crafted details are delightful and make our accessories into the ultimate beloved favourites for all occasions.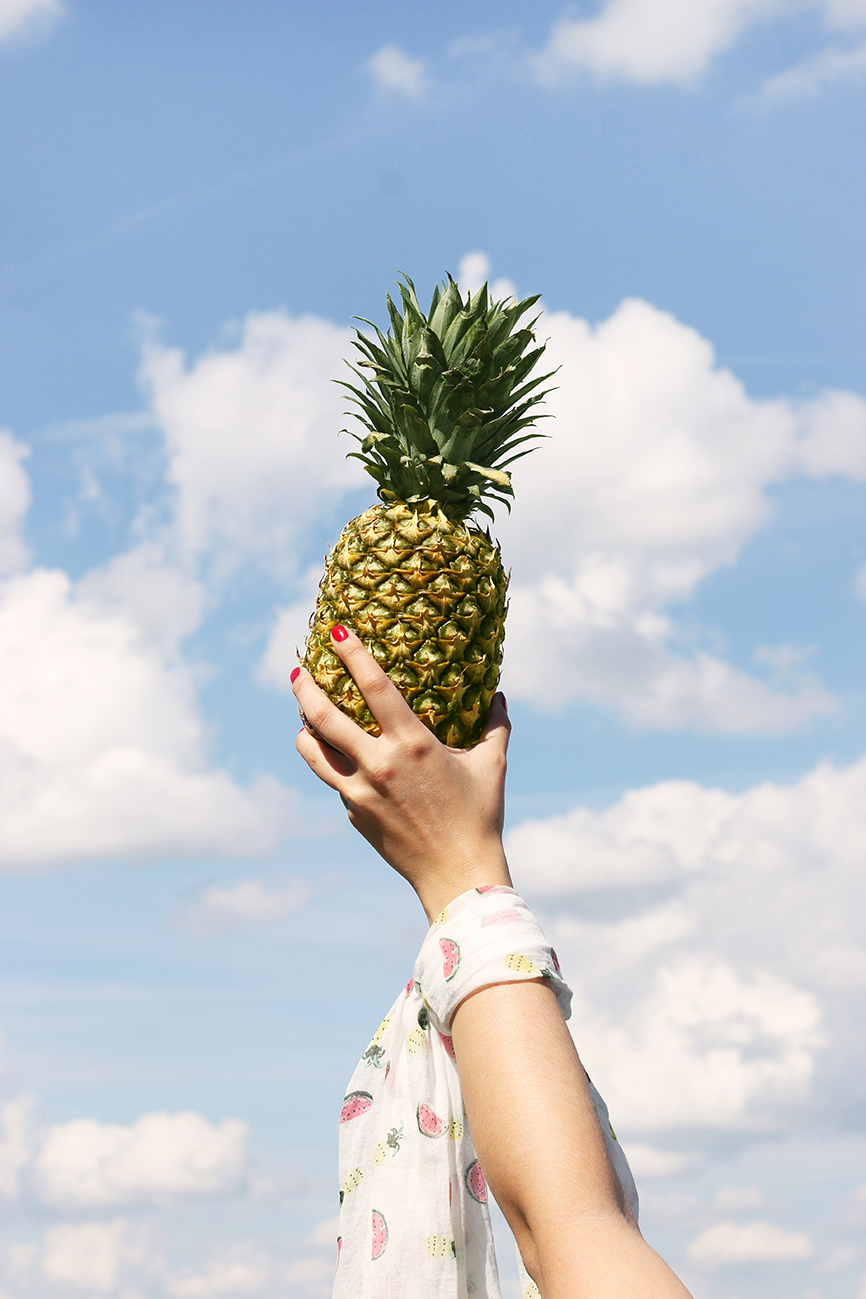 Let the show begin! Curtain up for Tweety, Bugs Bunny and friends, who add fun and emphasise the desire for a sense of humour and variety in fashion. With the Looney Tunes collection, we are introducing a world of playful and enchanting fashion. With their bright colours and cartoon style, these fun and playful pieces make a real statement.
RINALDO CODELLO. Rugged and masculine – our men's styles are real style statements. At their heart are timelessly classic patterns, modern motifs and carefully selected materials. Perfect for freethinkers and individualists. Sure to become beloved favourites, in fact.
We believe

Charity
'Share happiness' is the thought guiding our deeds. We at CODELLO are on a mission to spread delight and joy. Supporting children and adults who are suffering from illness or poverty in our countries of production is very important to us. This is why we are committed to various projects in Germany and around the world.
World Vision
We only procure the finest Mongolian cashmere for our CODELLO pashminas. It is therefore especially important to us to give something back to the people in this region. One great project has been completed in summer 2014: One euro from the sale of each pashmina went to the 'mobile health care for street children in Ulan Bator' project of the children's fund World Vision. CODELLO support meant that a project could be founded that guarantees basic medical care for the street children living in the Mongolian capital. It converted minibuses into mobile clinics fitted with key medical equipment, bandages and medicines. Also, our CODELLO Team has been in Mongolia to review the project. Here's our complete travelogue: CODELLO@WorldVision.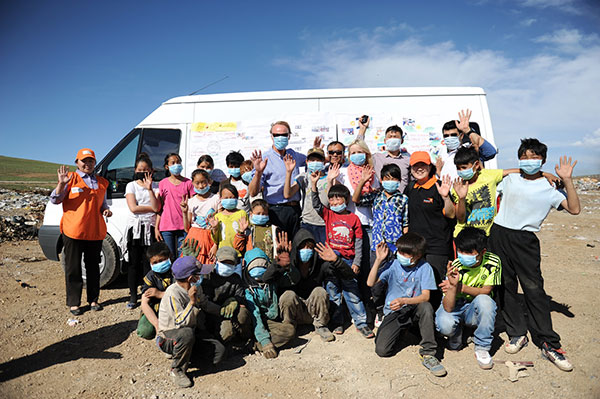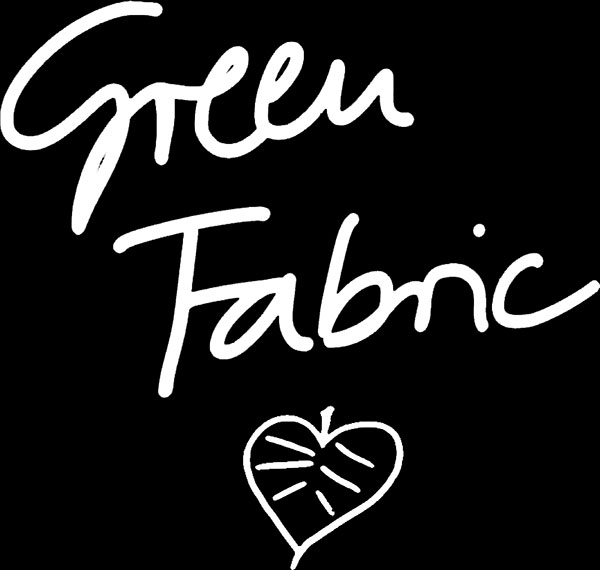 Quality and sustainability
We only use materials in our CODELLO products whose provenance we can fully get behind. We do not work with real fur as a matter of principle. We ensure that our products are free from harmful substances and do not use any chemicals that could harm health or the environment: we at CODELLO love natural, organic and recycled materials with low environmental impact.
The use of natural materials, our 'green fabrics', is a subject very close to our hearts. Like organic cotton. It comes from certified organic growers and is completely free from herbicides or chemical fertilisers. Our cotton is hand-picked in the field under fair conditions; water usage is kept as low as possible. Another component of many CODELLO accessories is polyester made from recycled plastic products. This way, we make good use of a material that can never completely degrade.
We also go green when it comes to our packaging. Our sustainable and ecological CODELLO paper packaging concept helps us to minimise the mountain of plastic packaging produced daily and to emphasise the specialness of our products.
Social Responsibility
We at CODELLO love what we do and whom we do it for. And we also take great care in choosing with whom we do business. This is why we are committed to fair working conditions and respecting human rights, working exclusively with suppliers who comply with our strict requirements in terms of social and ecological standards. We guarantee this with regular monitoring and a consistent presence in our countries of production. We regularly and personally review the factories supplying us around the world as regards social and environmental factors.

Who we are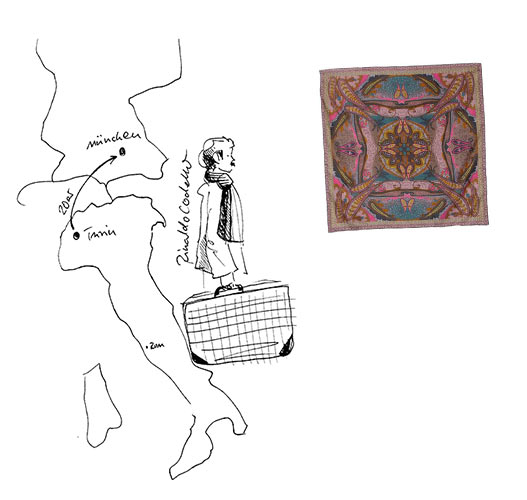 In the 1920s, the company's founder Rinaldo Codello came to Munich from the Italian city of Turin, bringing with him a love and passion for fashion, and a vision. He combined the traditional and elaborate craftsmanship of scarf printing with the inspiration he had gathered on his travels abroad. He then designed his first scarf collection, which he finally presented under the name CODELLO. He used various classic print motifs which he recomposed and had printed on silk using eye-catching colour schemes. This resulted in a distinctive signature and a very unique style. CODELLO was born.
Today…
With a clear brand message and a great idea behind it, CODELLO now sells a wide variety of fashionable scarves, bags and accessories around the world. CODELLO scarves are designed in Munich and made in parts of the world, where textile art has a long tradition. They are often manufactered by hand in many complex work steps.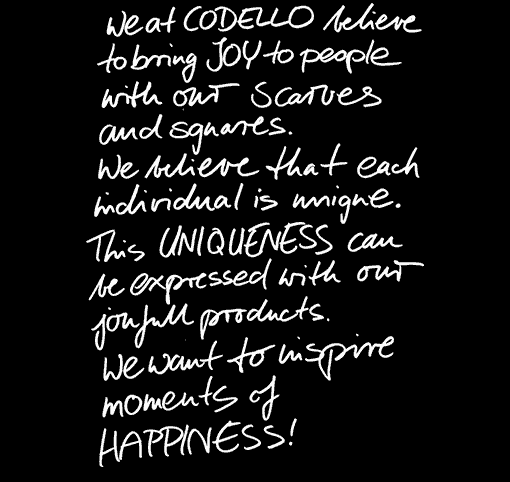 Our aim is the same today as it always has been: CODELLO scarves, shawls and bags tell exciting stories from near and far, evoke emotions and put a definite sparkle in the wearer's eyes. We believe we can spread joy with our products, conjure up smiles on faces and make the world a little happier. We believe that each person is unique. This uniqueness can be expressed with our accessories. Our scarves, shawls and bags set trends. The variety of our distinctive CODELLO designs is created by the unique interplay of exquisite fabrics, impressive colours and inspiring patterns – always with painstaking attention to detail and consistently high standards of quality, sustainability and craftsmanship. This results in real unique pieces destined to become favourite items: they are trusty companions, a treat and a joy.
Every CODELLO tells a story.
Our Collections
We love accessories! Scarves, shawls, bandanas and bags – the world of CODELLO is full of colour, humour and variety. And all in the signature CODELLO style.
We believe
CODELLO is fundamentally driven by our respect for people and the environment. We believe we can spread joy with our products, conjure up smiles on faces and make the world a little happier.
Who we are
Everything started in the 1920s, when company founder Rinaldo Codello brought his passion for silk scarves from Italy to Germany. Since then, the CODELLO fashion label stands for unique accessories with great attention to detail.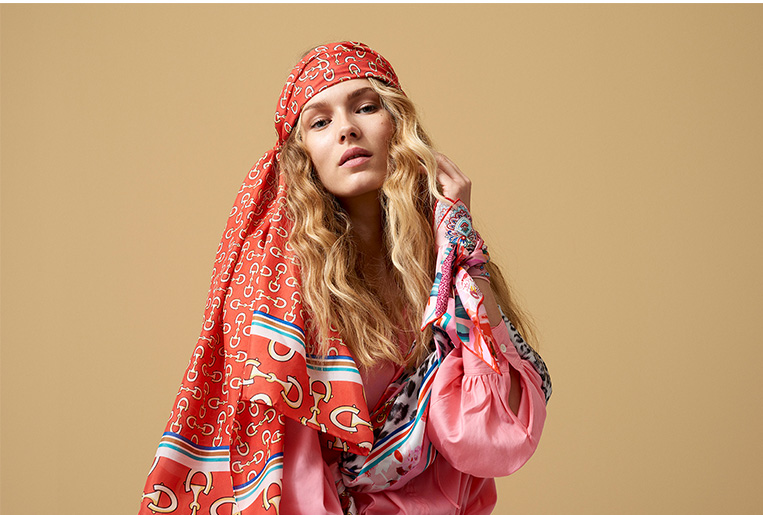 PURE HAPPINESS – the new CODELLO collection Spring/Summer 2021 wants to make you happy. It wants to inspire you with new ideas, stories and products. In addition to the timelessly beautiful key items of the CODELLO collection, the focus is on high-fashion-themes.
The collection reflects it – CODELLO stands for HAPPINESS. With its authentic and sympathic visual language and personal approach, CODELLO set itself apart in the market.
All accessories of the Spring/Summer 2021 collection bear the unmistakeable CODELLO signature: a very own design with characteristic motifs, colourful prints and high-quality materials.
Pure happiness and unique quality.
Handmade with lots of love and passion for colours, prints and details.

Meet CODELLO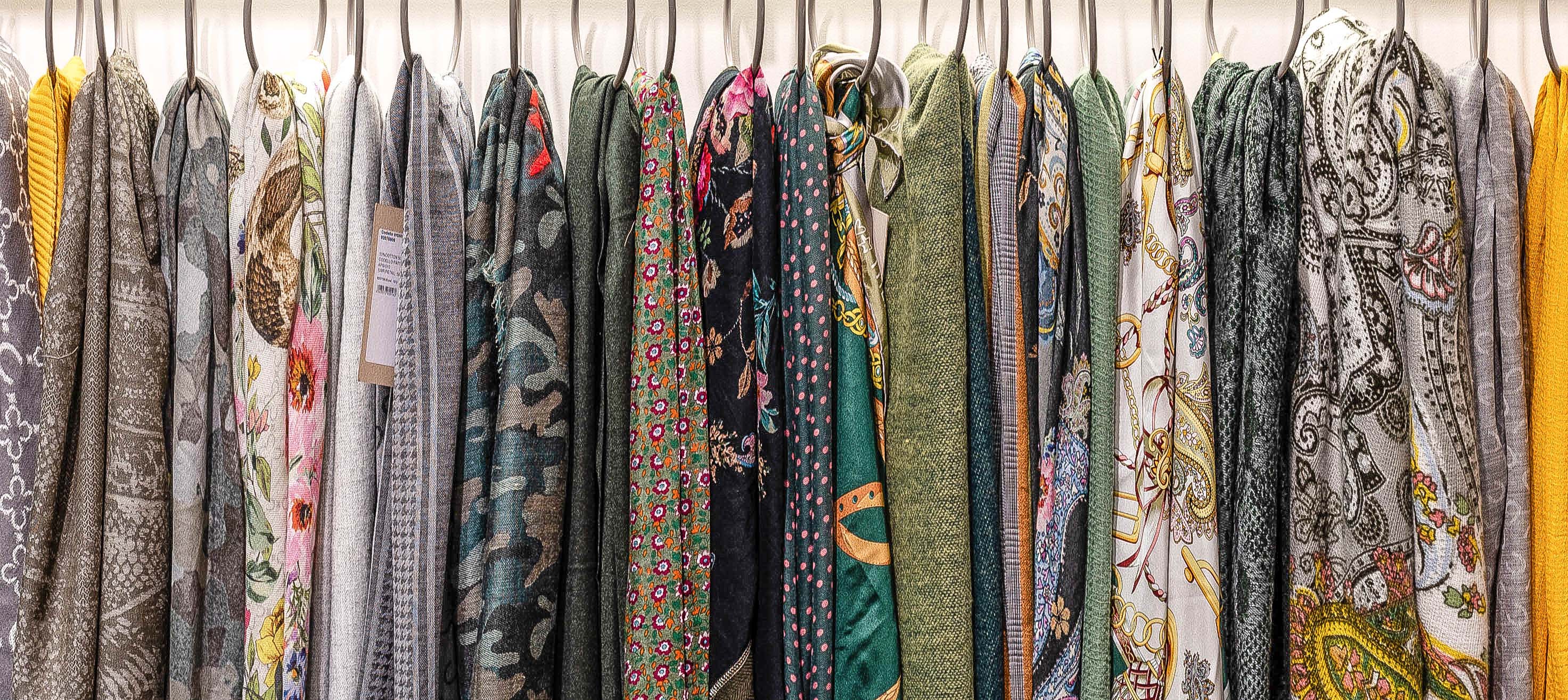 Store
This is where we bring our CODELLO world to life. Our team can advise you on what colours and shapes suit you best, and show you the myriad of ways in which you can tie our scarves, shawls and bandanas.
CODELLO Outlet(Mo-Sa 10-18 Uhr)
Mühlfelder Str. 2, 82211 Herrsching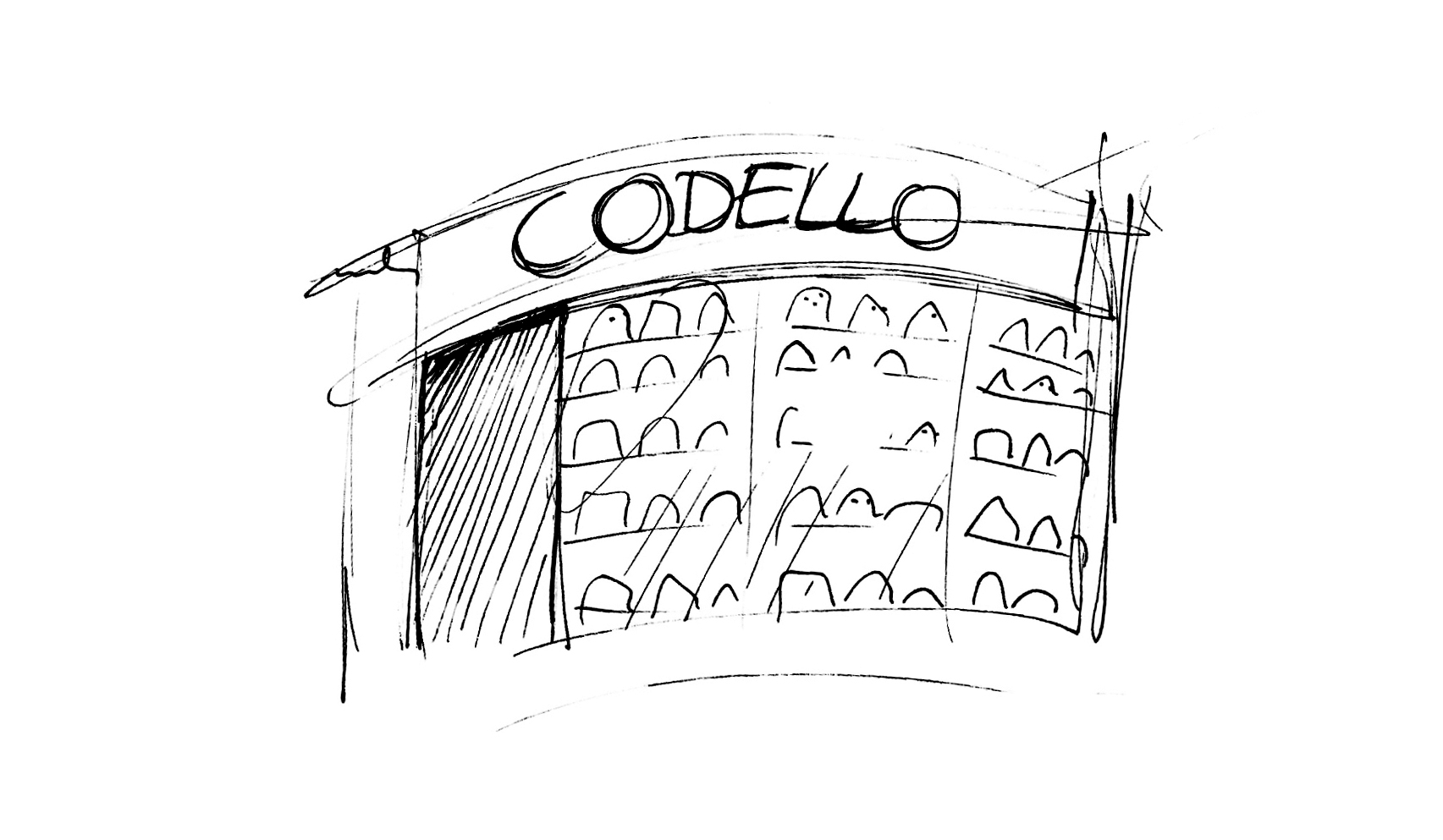 Travel Journal Summer 2019
Click here for our travel journal 2019.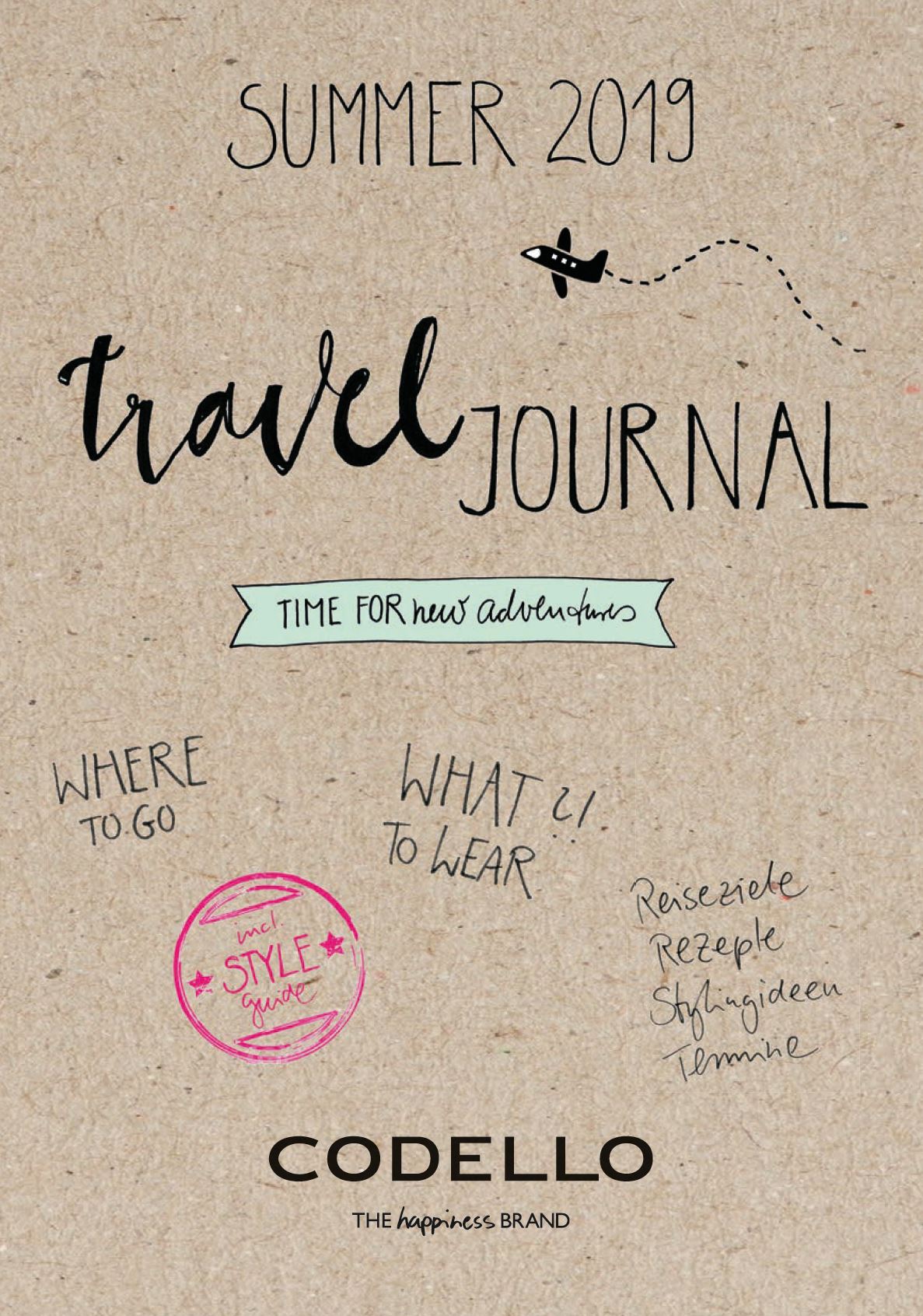 How to wear?!
Find out more about tying techniques and wearing options here.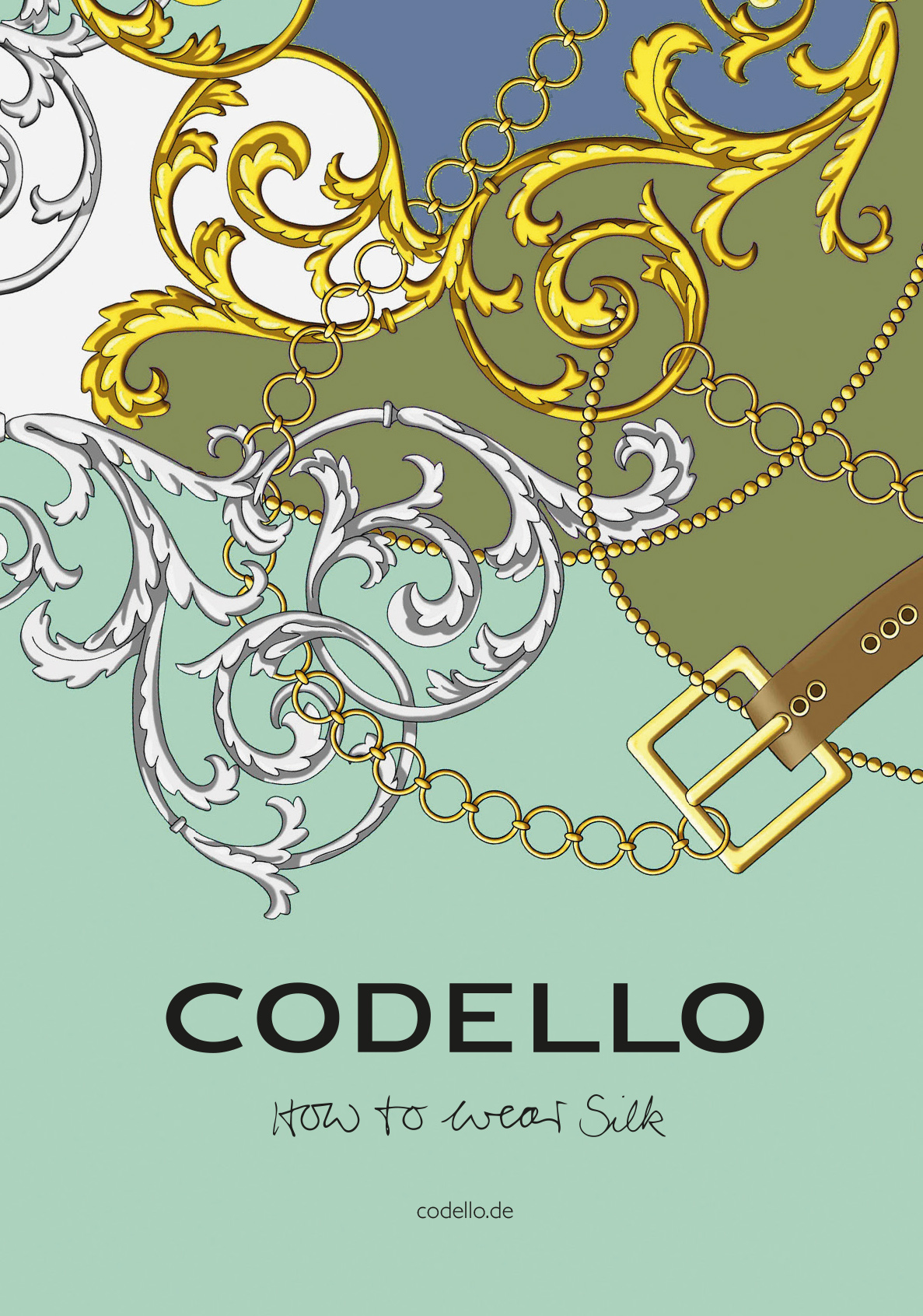 Newsletter
Keep up to date with our current trends and highlights from the online shop. Sign up for the newsletter.
Facebook
Become a fan and look forward to CODELLO events, exclusive previews and competitions.
Instagram
Join our CODELLO world. Take a peek behind the scenes of design, inspiration and collection.
FAQ
Which documents should I submit?
covering letter
CV including task descriptions
relevant certificates
salary expectations
earliest starting date
Format: collected into one PDF document (max. 5 MB) via email
Can I increase my chances by calling you?
Any additional personal contact will not influence a successful job offer. We will, however, of course be happy to answer any specific questions that have a bearing on your application. 
Which certificates are relevant?
You should select your certificates depending on your educational status and professional experience. Only relevant certificates, listed chronologically, should be submitted. Additional credentials and training certificates may be specified in your CV and then submitted on request. Applicants for apprenticeships should please submit their last two school reports. 
How does the application process work at CODELLO?
After an application via email, we promptly send back confirmation of receipt. We carefully check all incoming documents, which can take a certain amount of time. If the applicant's experience and qualifications are a match for the job profile, we will invite them to an interview. 
What can I expect after being invited to an interview?
We normally send our interview invitations electronically and are pleased if we receive prompt appointment confirmations. At the initial meeting, a representative of the Human Resources department and, depending on the role, a representative of the department in question will be present. The aim is to obtain a personal impression of the applicant and to find out more details about their professional knowledge. They, too, can get an impression of CODELLO as an employer. 
Is the position I want still vacant?
All job ads on our home page www.codello.deare updated daily and therefore still open. If a CODELLO job ad is placed on another platform or medium, it is current so long as it can also be found on our home page.
Can I send you a speculative application?
We haven't posted the right job? Then we'd be delighted to receive a speculative application, stating your desired job or relevant field at personal@codello.de. 
What is the CODELLO talent pool?
If we receive an interesting application profile for which we currently do not have a vacancy, we will ask the applicant whether we may place them in our CODELLO talent pool. If they consent, we will contact them at a later date if the right role opens up. 
How long is an internship at CODELLO?
With the exception of a school work experience programme, our internships are only awarded for a period of at least four to six months. 
I am interested in temporary holiday work at CODELLO
We are always happy to gain some extra help, especially in our busiest months. Anyone who has just finished their school-leaving examinations and wants to fill the gap before beginning training or university whilst topping up their bank account is welcome to apply at any time. Please specify your desired working dates – ideally for several weeks/months full time.
Information for Applicants
Everyone who works at CODELLO is very different when it comes to personality, qualifications and values. But we all have one thing in common: we are all passionate about and identify with our product and brand. Everyone in our team is firmly and happily committed to the overall success of the company. This is why, for us as an employer, it is crucial to offer each employee the opportunity to take an active role in the company's development. As a family-run company, closeness, personal respect and fast decision-making processes are a matter of course for our daily business together.
Working in a target-oriented, motivated and responsible way and the continuous development of our field of expertise is very important to us at CODELLO. But the personal and professional development of each individual person is also an important key to success and close to our hearts. We help each employee to uncover and develop their talents and offer a wide range of perspectives: creative tasks, a view of the bigger picture and friendly colleagues in a dynamic team are the keys to successful and fulfilling work for CODELLO.
An attractive salary as well as an additional performance-based bonus scheme provide an incentive to realise your professional and personal goals with our team. The future of our CODELLO team is something very close to our hearts: all of our employees have the opportunity to join a company pension scheme with special operational conditions and also capital accumulation contributions.
Balancing family and professional life is also a matter of course for us, and we actively support it with flexible working time models.

For further questions, please contact:
Phone: +49 (0) 8143 9912-0
E-Mail: personal@codello.de
Applications
CODELLO is shaped by people who believe in our products with their heart and soul. We are always looking for new team members who want to get things going with us!
Retailers
Für unsere Händler geht es hier zu unserem B2B-Portal.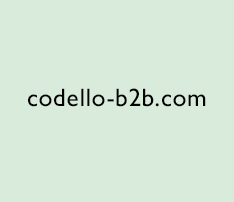 Press
Marlies Hofmeister
Wildmoos 1
D-82266 Inning a. Ammersee
Telefon +49 (0) 8143 9912-0
CODELLO Lifestyle Accessories GmbH
Clarita-Bernhard-Str. 27
D-81249 München
Tel: +49 89 9 982 983 – 0
info@codello.de
Getting here by car
Autobahn A99 Exit Freiham